Janet Cardiff created one of her so-called audio walks for Louisiana: With an iPod in your pocket and headphones on, you are invited to follow her voice and her footsteps on a tour in the Sculpture Park: "I want you to walk with me through the garden." The story starts in a place where strange things that she does not understand have occurred. We hear the sounds of the place: ocean waves, leaves rustling and other museum visitors. But what sounds are coming from the headphones and what sounds are coming from out in the park right now? A helicopter, a dog and music. Suddenly it feels as if you are standing in the middle of a movie.
In the approximately 12 minutes that the audio piece lasts, fiction and reality are mixed together. Cardiff sends us out into corners of the park that we might normally overlook. Along the way, she comments on the things we see and also things we do not see. Her works thus play on our usual notion that the eye sees what the ear hears at the place where we are. It is an approach that can seem both disturbing and seductive at the same time.
Another work, Missing Voice from 1999, which takes place in London, is based on the same mixture of the appealing and the unsettling. This audio walk is around 50 minutes long, and it also relates a detective story between fiction and reality, while one wanders around a part of London that has undergone profound changes since the work was created.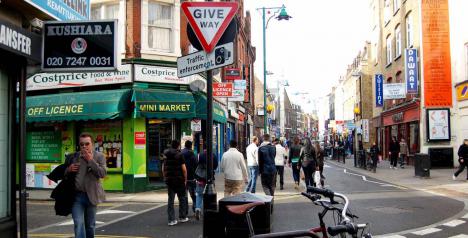 Urban image from the area around Brick Lane in London, where Missing Voice takes place. 
When you take the headphones off, you have gained new experiences of the place, whether it is Louisiana or London. Not because it looks different, but because you listen to the sounds of the place in a new way and because you have new images in your mind's eye that you cannot easily forget.
You experience Louisiana Walk # 14 among other works of art in Louisiana Sculpture Park. The other works are all of a very physical and visual nature and are more immediately recognizable as works of art. The only physical manifestations of Cardiff's work are an iPod with recorded words, sounds and snatches of music as well as a chair that is located in the park at the end of the tour. In its material form, one can thus easily "overlook" this work – you must know that it's there and request it at the entrance to the museum.