"The door to Louisiana." "DSB (Danish State Railways) advertises for Louisiana." "Art on the train platform." "Louisiana station." These headlines filled the local newspapers when Per Kirkeby's brick sculpture at Humlebæk Station was inaugurated in 1994. Louisiana Museum had come over to the station, and the trip became part of the museum experience.
Landmark for Louisiana
Kirkeby's brick sculpture at Humlebæk Station was conceived deliberately as a landmark for the museum: a sort of introduction to a trip to the museum that heralds the experience you are undertaking. The sculpture was erected in collaboration with DSB (the Danish Railways). It belongs to Humlebæk Station and was intended for the site. From its form and material, it is apparent that it is intended to be experienced in the context of the surrounding architecture. If you arrive on the coast line, you have come past several similar station buildings. The red bricks and arches in particular are recurring features. In this way, the sculpture seems to position itself between what you are coming from on the train ride – that is, the architecture – and what you are heading towards – art and the museum.
Between function and form
At first sight, the Kirkeby sculpture at Humlebæk Station appears to be a building – it resembles the small building beside it, only it is simpler. That it is not a building becomes apparent for anyone who goes through it or tries to take shelter inside. There is neither roof nor walls that can provide shelter from rain and wind, so the large form remains a pure form. Rather than being a building, Kirkeby's work seems rather to be a reference to a building: something everyone knows and recognizes. But without the function that we associate with a building.
Kirkeby's brick sculptures seem to have another effect. They seem rather to be breaks and passages in the surroundings. Sometimes they repeat form elements and materials from the environment, as at Humlebæk Station. Other sculptures are placed on landscapes where the bricks tend to function more clearly as alien elements. Yet another type blends in so much in the urban space that it almost disappears as an independent structure. What the sculptures share is that they are intended to be spatial ornaments or patterns more than rooms or spaces in themselves.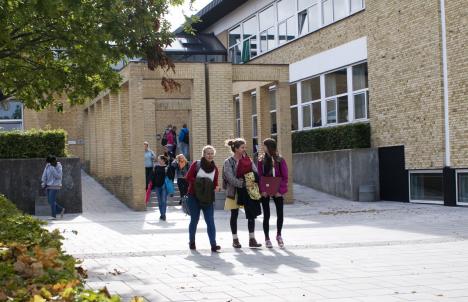 Vesthimmerland Gymnasium, where Per Kirkeby's yellow brick sculpture is used daily by students and teachers on the way into and out of the buildings. Photo: Per Feder
At Vesthimmerland Gymnasium, Kirkeby has designed the entrance. Here the structure has a function: It connects the buildings and serves as passage between outside and inside, but it is also clearly an independent structure that is not part of the buildings. There are no roof and walls here either, but a sense of space is still created in the passage.
"The wall is of course a large ornament." Per Kirkeby, 1995
While it stands out slightly in relation to its surroundings by resembling a room without enclosing it completely, it leans up against the rest of the building with its yellow bricks.